An Elegant Table Setting by Mahmut Anlar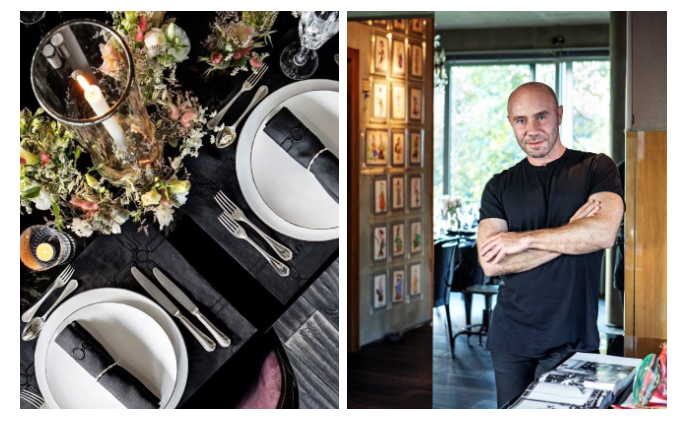 The most important detail for Mahmut Anlar in each interior he designs is that it has soul and identity, which is what he attains in this table setting that resonates cultivated simplicity.
Architect Mahmut Anlar, rightly infamous since the 90s for his extraordinary, creative, widely talked about domestic and international projects, continues his hotel, restaurant, sports and health club projects with his firm, Geomim Architecture. Having taken up house decorations after many years, the architect says the most important thing in interior design is "identity". He has founded a new company called Geo-ID for this reason, which provides brand identity services in addition to interior design.Anlar puts the focus on the perfect match between black and white in the table setting he created using Haremlique Istanbul products; he's also sharing tips for how to create a table with personality.
How would you define your style?
I've never been able to find a name, adjective or word to describe my style. We are a firm that is able to adjust to any and all styles the project demands. I prioritize doing a good job to having a certain style.
What are your inspirations?
Various things. You never know. Sometimes even a melody inspires you to dream up different worlds. But generally speaking, I can say life stories.
What are some of your favourite colour palettes for table settings?
I prefer quiet colours. After all, all the objects used in table settings are there for the purposes of food service. I don't think there should be a colour restriction for food. But of course the harmony of colours in the menu is important as well. I love colourful tables, but personally I put the food first, so I use more neutral colours. White, smoke and sand colours, and the irreplaceable black.
What's the most important thing for you while decorating a table?
How about elegance? But to say that, I need to describe what I mean by elegance. For me elegance, or grace, means first and foremost to be respectful. I'm against unnecessary cluster just for the sake of grandeur or luxury. People can't see each other because of majestic and overly tall flowers, or the cutlery gets mixed up because the table's impossibly crowded. My preference is always a cultivated simplicity.
Which flowers reflect your aesthetics the most?
I especially like wild flowers on the table. In fact, I prefer presenting them in small glasses to give the feeling of a bouquet freshly gathered from the garden. In terms of colour, I usually like white or at most the pastels.
What's on your favourite menu for a dinner party?
I usually don't like dense menus. I think it should be clean and simple. Let's say two appetizers, maybe also a warm appetizer and the main course. I am very fond of desert. I try to steer clear in daily life, but I think people should indulge a bit in these types of events.
What are your essentials for a special occasion?
Things like the number of guests, whether it's going to be a buffet or a table setting are very important factors. Ambiance wise, the two have very different dynamics. I generally prefer dinners with a small group of people, eaten at a table setting. Where everyone can chat… In crowded events it's important to have a catering service, but with a smaller group at least a number of the dishes should be homemade. I think the work you put in in the kitchen resonates intimacy. Lighting and music are important as well, but nothing should get in the way of people communicating. After all, the real purpose of a dinner party is to taste different flavours alongside pleasant conversation.
"I think Haremlique's Turban collection is especially brilliant. The cylinder candleholder I use is also from this collection. In terms of design it's actually very modern, but its simplicity goes amazingly well with classic table settings…"
What type of elements you prefer to use in your table settings?
I generally prefer simple service sets. A high quality white porcelain plate, with a simple border at the most. Even that is not necessary. I prefer simplicity in cutlery, too. Especially if it's silver, I prefer the larger sizes. It should have a good grip. If it's a silver set, it must have a more classic feel. In addition to the service sets, and granted that they don't interfere with the table setting, flowers and candles are a also very important.
Could you talk about the table setting you've prepared for us?
I've prepared a mostly black and white table. I want to point out that service platters will replace the pastel flower decorations once dinner starts. I am in favour of food staying on the table. Whether it's me or the help doing the service, if there aren't too many different dishes, I like them all to stay on the table in case someone wants a second serving.
What's your favourite Haremlique Istanbul piece to use for a table setting?
I love the placemats and the napkins. I think the quality of the linen and the simple embroidery designs are excellent. And the fact that the embroidery is the same colour as the napkin, only recognizable through texture difference, fits perfectly with my idea of elegance.In a classically designed table, for cutlery and other objects that require metals, I am partial to silver. I think Haremlique's Turban collection is especially brilliant. The cylinder candleholder I use is also from this collection. In terms of design it's actually very modern, but its simplicity goes amazingly well with classic table settings…
---